Two Worlds has successfully completed the first phase of an R&D project with Scottish Natural Heritage (SNH) , funded by the UK's Small Business Research Initiative (SBRI) programme.
The project's goal was to demonstrate the feasibility of a service to provide a single point of advice to support anyone planning activities that affect the natural environment, to help them understand the environmental impact of their proposal, to advise them on what they could do to mitigate any impact and to outline what consents and processes they'd then need to follow. It will also be possible, over time, to build a dynamic picture of the impact of human activity on the natural environment by a wide range of measures, including climate impacts.
Approach
The project took a two-pronged approach: researching the needs of the potential users of the system and identifying the range, quality and accessibility of the available data sources.
We were then able to integrate, filter and present a wide range of data sources, including – for starters – current and historical scientific data, biological databases, planning and management data and climate records, discovering and pulling out the data that was relevant to any given location and activity.
With Phase 1 completed, we are already pursuing other commercial and collaborative opportunities that have arisen from or been inspired by this project: exactly the sort of outcomes for a developing business that SBRI was set up to facilitate.
Technology Notes
The technology at the heart of the project is udu, a next-generation, data fusion and intelligence platform. udu is a biologically inspired (biomimetic) system that supports a population of thousands of tiny application fragments (known as nano-apps). These nano-apps work like a natural ecosystem: they organise themselves around problems and queries presented to them, creating an ultimately adaptive system capable of helping discover not just what you knew to ask for, but to also to provide what you need to know about a problem, but wouldn't know to ask in the first place.
For this project we've extended udu's core capability with geospatial analysis features, added intelligent data-handling for the classes of data we've used and created a proof-of-concept client framework, all based on open standards and modern 'best practice' in software engineering.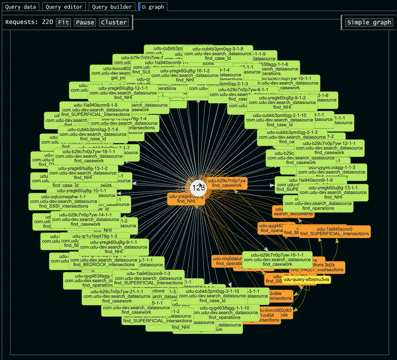 Global technology from rural Scotland…
The project was carried out across three countries and two continents, from Two Worlds' premises in the Scottish Highlands, with development and collaboration enabled by the transformational hyperfast fibre network provided by Balquhidder Community Broadband, a project founded by the principal of Two Worlds..
About Two Worlds:
Two Worlds, established in 1999, is an AI research consultancy and incubator, specialising in complex, adaptive systems. The strategies and and technologies we develop help bring together knowledge that helps us make sense of our physical and virtual worlds, by integrating, contextualising, analysing and responding to complex, diverse and ever-changing data. This can include corporate and public databases, web searches, social media, individual documents and media of all kinds, IoT (Internet of Things) device networks and drones, augmented and mixed reality (xR) systems and remote sensing services, as well as engagement with the original data handling technology: Actual Human Beings.
Further Information:
For further information, please contact: Richard Harris, info@nulltwo-worlds.com