We've now moved from forecast to reality: the UK (and others) are in the throes of a new wave of infections, driven by the Delta variant of the Covid-19 virus. In the UK this has almost certainly been facilitated by both the general relaxation in lockdown and by events such as the G7 Summit and the Euro 2020 competition.
We have now introduced an alert system, which looks for outliers against the current trend in case numbers and pandemic force – this shows that cases and pandemic force spiked in Cornwall following G7 and, as of now, Glasgow (Hampden) just misses out on triggering our alert system and Brent (Wembley) and Edinburgh (the other major source of travelling Scotland fans) both now make our alert list (the red outlined local authorities in the header image).
Case Numbers and Trends
Case numbers are rising, and rapidly. Whereas a couple of weeks ago, that was just in certain areas, it's now happening across the UK. As of 12 June, our forecasting was suggesting that we'd be seeing 9,800 daily confirmed cases (as opposed to the media reporting of cases reported on a given day for all dates) by 25 June. By 17 June, our forecast for 25 June was suggesting over 10, 900 daily cases, so is adapting to an accelerating trend, something supported by our Kinetic Modelling.
Our modelled case numbers for 25 June then turned out to be 13,711, against published figures of 13,0581 so, whilst our forecast has been very robust in terms of predicting the overall rate of increase, our case number forecasts are actually somewhat undershooting the actual case numbers.
Our 28-day outlook is now suggesting that, across the UK, we'll be seeing nearly 50,000 daily confirmed cases by 20 July (confidence interval 22,000…60,000), the highest numbers since mid-January, and above the Autumn peak from last year. The UK's rolling weekly case rate is currently 101/100,000 population, up 35% from a week ago.
We do however think that may be again an underestimate, the rising number of inter-regional journeys that are taking place as restrictions are eased is outpacing the historic trend during lockdown – Google's mobility tracking data is showing a continuing use of outdoor spaces such as parks well in excess of the pre-Covid baseline, whilst use of workplaces still remains below the baseline, suggesting that people are out and about more for leisure purposes.
We then have the issue of two major mass events: firstly the G7 meeting and, on a much larger scale, the Euro 2020 competition. As ours is a data-driven process, we don't explicitly model the impact of such events in advance, but we can see their impact in the divergence between our forecasts and subsequent data. We've already seen just that in Cornwall, where our forecasts of a modest but accelerating rise during June were completely overtaken by the actual figures following G7 – our kinetic analytics also show a major spike for Cornwall in the aftermath of G7, which thereafter faded, but with ripple effects in neighbouring Counties.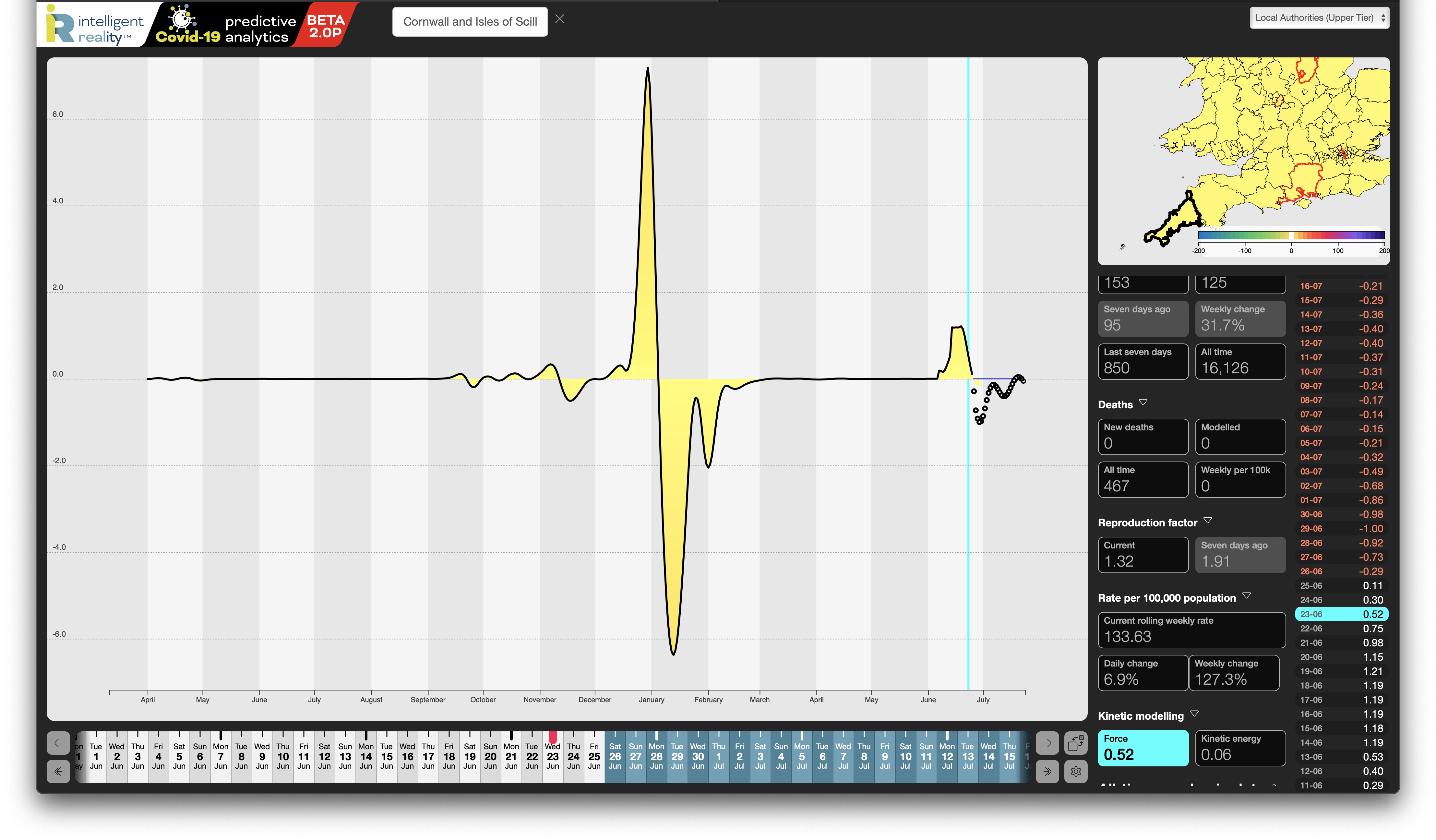 As for the Euros, we expected to see a rise, initially in cases and the kinetic force of the pandemic, in areas around Hampden and Wembley and in areas from which major contingents travelled to matches, and indeed we do – there has been a major rise in cases and pandemic force in Glasgow, and both Brent (the host borough for Wembley) and Edinburgh (from where many Scotland fans will have travelled to Wembley on 18 June and Hampden on 22 June) now feature on our new forecasting alert system. What is harder to draw any conclusion from is whether the somewhat lesser rise across most of the rest of the country is influenced by the outdoor events and mixing around Euro 2020 – as that's far more distributed, the simple fact that our forecasting is underestimating the actual case numbers does not give us the confidence to separate social events from the impact of the Delta variant.
Our system is focussed on finding emerging patterns, changes and relationships rather than drive explanations of causality (that's where hypothesis-driven modelling takes over), but it does seem reasonable to suggest, from the correlation, that both the G7 (more locally) and Euro 2020 (more widely) events are to some extent exacerbating the current wave.
All of that is available on our public beta site, at covid-19.intelligentreality.co
---
About us: Intelligent Reality is a data intelligence company, using emergent approaches and inferential AI to provide daily analyses and forecasts for Covid-19, currently for the UK. We're based in Scotland and Germany, and supported by the udu team in the USA. Together we have brought together a highly experienced team of data scientists, designers and epidemiologists to address some of the key problems we've seen with the generation and use of pandemic data to support decision making for public policy.
---